Donate
If you would like to donate to our local chapter, you can make an online credit card payment using Habitat for Humanity International's secure website: Donate to Jackson-Union County Habitat for Humanity. 100% of this donation will go to our local chapter.
Whereas Habitat for Humanity International can afford to send you future solicitations along with notepads, calendars, greeting cards, or teddy bears, your LOCAL chapter of Habitat cannot afford to do so. We use your donations to build houses or for our Minor Repairs Program and they go directly to help families in Jackson and Union Counties.
If you wish to contribute directly to our LOCAL group, you may contact us by phone at (618) 457-8480 or send a check or money order payable to "Jackson-Union County HFH" to the following address:
Jackson-Union County HFH
P.O. Box 1064
Carbondale, IL 62903-1064
Please designate that the donation is "For Local Use". Thank You!
Fundraising
Events
We have birdhouses for sale once again this year. We are very grateful to Neurorestorative of Carbondale for building BEAUTIFUL birdhouses AND birdfeeders for us this year. They are $20 each. Contact Barb Rester at volunteercoord@juchabitat.org if you are interested in purchasing some. Or, keep an eye out in the Southern's weekly calendar as we will be selling them outside of local stores in the near future.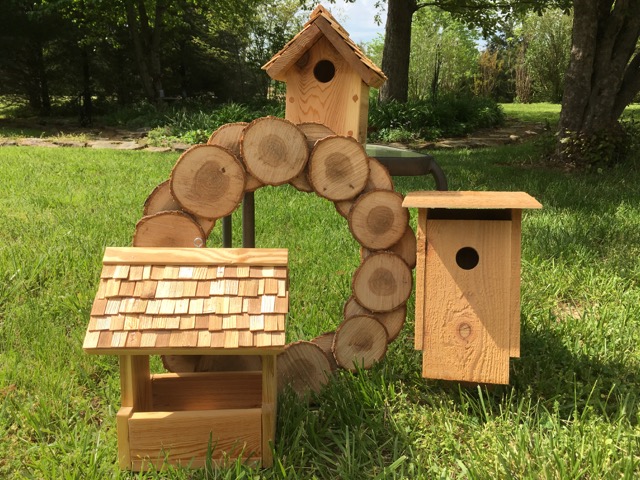 2017 was a very succesful year in terms of fundraising. We are deeply grateful to the churches, religious groups, businesses and especially, the individuals who have supported our group. If this is an area of interest for you, please contact our Fundraising Chairperson. His contact info is on the Board page. Thank you!
Our local Habitat is a 100% volunteer group, including our Board members. Funding to build each Habitat home comes from the mortgages being paid by previous homeowners. As construction costs have increased, we are seeking a higher level of funding from donations so that we may keep the mortgages within an affordable range for our homeowners. We were pleased with our spring fundraising efforts but we are still running a little short. Please help us fill that gap.
We greatly appreciate the help we receive from Habitat Int'l partners like Dow, Whirlpool, Larson, Hunter Douglas, and York. But we appreciate the donations from local and small businesses and individuals because we know they will "feel" the donation more than a big corporation might. We also appreciate that they are partnering with us to invest in our community. Some of these are recent partners and others are from the past several years. Some donations are larger than others but ALL are appreciated.
Cities of Carbondale and Murphysboro - donate lots
Asaturian and Eaton - establish lot lines
Jeff James Construction - dug and poured footings
John A. Logan Construction Mgmt. classes (Mike DeMattie and Greg Walker) - walls and trusses
John A. Logan HVAC classes (Jason Stutes) - installed heating and air
Burke Electric - reduced cost on electrical
UA Local 160 Plumbers & Pipefitters Apprentice Programs - plumbing
Reed Plumbing - reduced cost on plumbing
Nieman Flooring in Murphysboro - reduced cost for vinyl flooring
Mike Burke - reduced cost for vinyl installation
Marshall Norman - spray painted primer and ceilings
E & D Concrete - gravel and concrete and finishing of entry and back sidewalks and parking area
Burris Disposal - use of dumpster
Don Burk - installed shingles
Allan Brittin - reduced cost on drywall finishing
Les Murray - attic insulation
Greenville Prison Cabinet Program (Brian Jensen) - built cabinets
Lowes of Carbondale - donated paint and reduced cost on materials
FWS Countertops - countertops and sink provided at cost
EZ Rental - use of several items
Changing Seasons Nursery (Trent Mohlenbrock) - donated shrubs and tree
Cook Portable Warehouse (Greg Cook) - shed provided at cost.
Rocky Comfort Cabins (Ed Cook) - donated sun tunnel (solar tube)
Ron Reeder - appraisal of property
Rochman Investments - Storage facility space
Evergreen Garden Club - planted shrubs and tree
Longbranch Cafe and Bakery - donated cake for the Dedication
There are many others to thank. There are those who have come out to our fundraising dinners at restaurants or who have donated to our silent auction or donated items for our yard sale. Thank you for helping us build strength, stability, self-reliance AND shelter.
Think Globally,

Give Locally
Donate to our local chapter using Habitat for Humanity International's secure website: Donate to Jackson-Union County Habitat for Humanity. 100% of this donation will go to our local chapter.